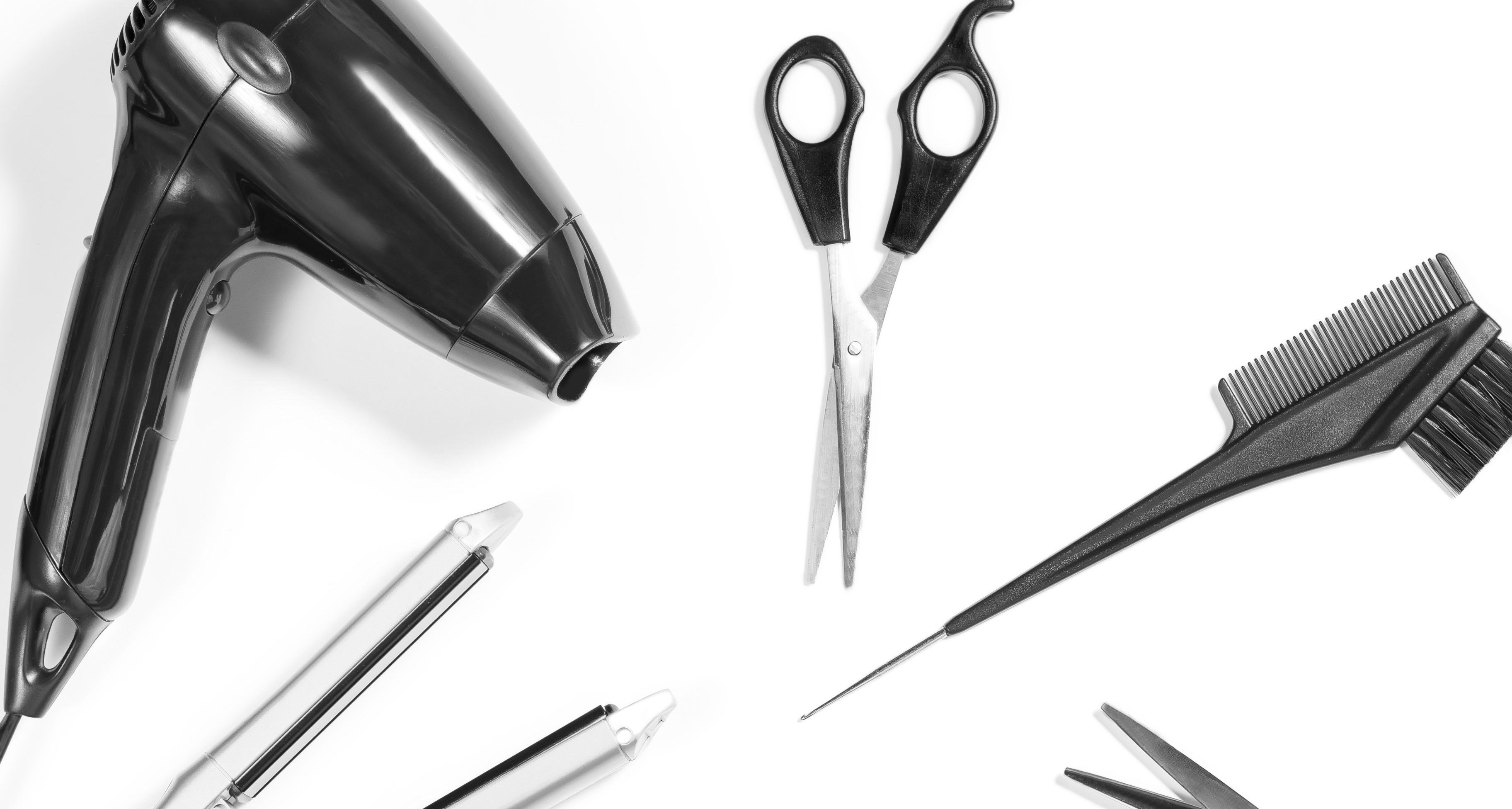 There are a number of options available when it comes to earning your barbering or cosmetology license. The two most common paths that people take are either to participate in an apprenticeship program, or enroll in a professional school.
We want to give you some facts and insights into what options you have as you begin your barbering or cosmetology career, but we have to admit- we believe in the Cosmebar method of training our future graduates through apprenticeship. Keeping that in mind, let's take a quick look at some of the main differences between professional schools and apprenticeship programs.
Apprenticeship Programs allow trainees to earn a wage while studying to become cosmetologists, electrologists or barbers, so long long as they are supervised by a California Board of Barbering and Cosmetology (Board) licensee in a salon licensed by the Board.
Traditional schools (think Paul Mitchell, Aveda, Toni&Guy) provide barbering and cosmetology training using a preset curriculum that is taught over a period of hours at a cosmetology/barbering school.
Cost
Cost is typically one of the first things that students look at when considering how they will earn their barbering/cosmetology license. What we recommend evaluating is what you are getting in return for what you pay. While that seems like common sense, when you're talking about thousands of dollars, it's one of those things that we have to point out. When you choose a professional school, a big part of the price tag is comes from the school's name brand, and not necessarily the skills they are going to teach you.
There are some really awesome professional programs out there, just remember to be on the lookout for the ones that try to lure you in with their "esteemed curriculum". If you don't without feel confident that you'll be getting your money's worth, keep an open mind and consider all of your options. One key indicator that a program might not be all it's hyped up to be is if they make it hard to find information like graduation rate, loan debt, or program completion percentage. If these kinds of stats aren't readily available on their site, be sure to ask an advisor before you decide to enroll.
Skill Development
Regardless of the type of program you attend, most barbering and cosmetology programs are going to cover the follow topic areas: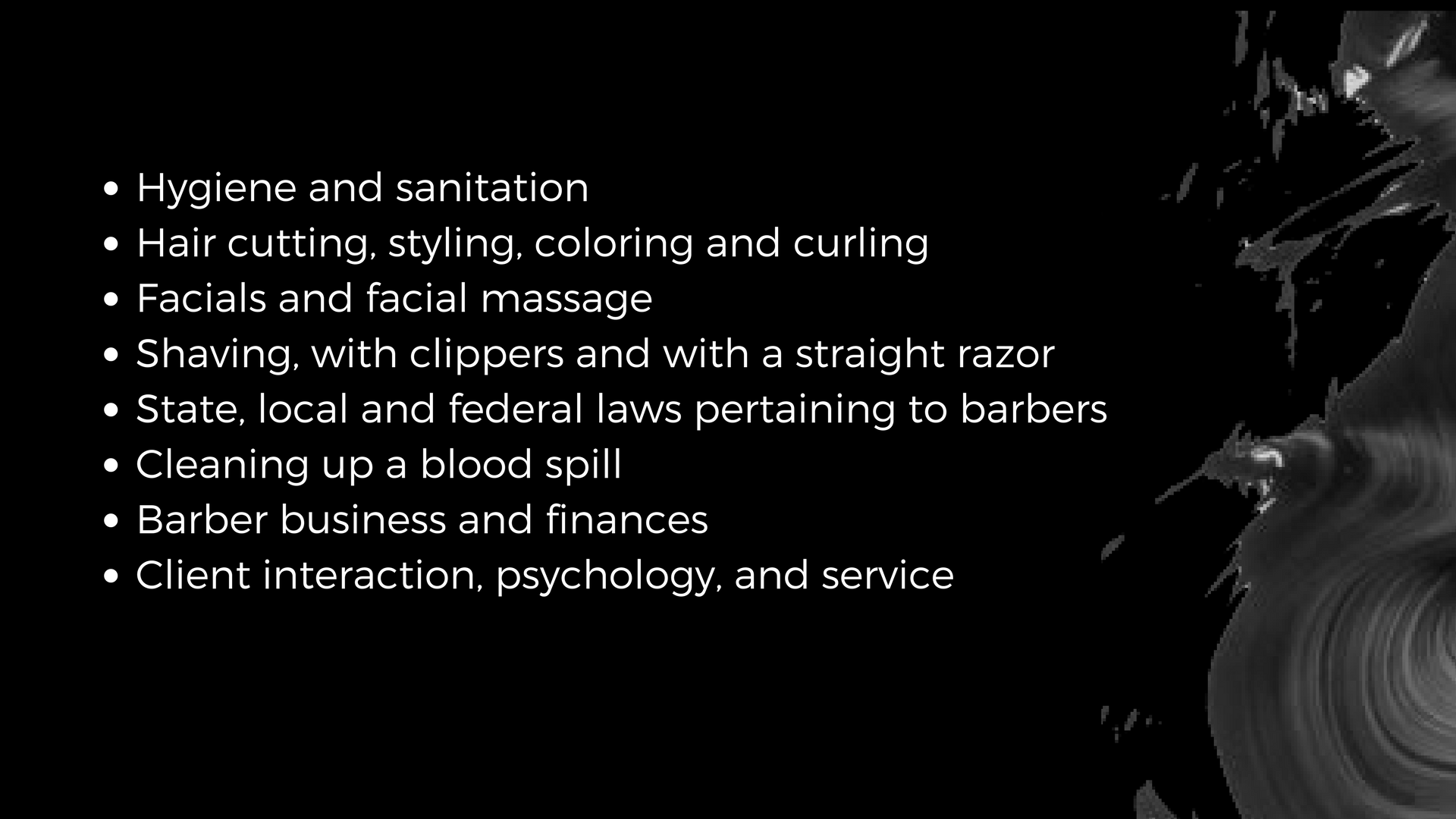 When you study in an apprenticeship setting, you'll learn these skills and also the behind the scenes nature of running a business. In the many years that we have been training barbers and cosmetologists to work in the real-world, the one thing we hear a lot is how often new-hires from professional schools must be retrained when they start working in their first job. Because professional schools teach using a scripted curriculum, there are often gaps in the learning that must be corrected.
Client Relationship Building
When you get your barbering/cosmetology license via apprenticeship, you graduate from your training with a clientele. Apprenticeship programs are designed in such a way that you have regular exposure to customers that you can build a relationship with and continue to see when you graduate.
When you obtain your license via a professional school, you also have access to working with real-life clients. The difference here is that clients who seek cosmetology/barbering services at a training school are more likely to return to the school itself for their next appointment instead of following the stylist/barber to their post-graduate placement.
Mentorship Opportunities
In a professional school, your curriculum is set based on what Paul Mitchell, Toni&Guy or whichever branded program you attend defines as the skills needed to be a successful cosmetologist/barber. This can be a benefit in the sense that these individuals didn't have a school named after them because they don't know how to cut hair. There is some truth to their format, and in most instances, these programs provide great access to trainers who will guide you through your journey.
Apprenticeship programs have more flexibility in terms of who is teaching you throughout the training process. One student can have multiple mentors throughout their training, and gather strategies from different perspectives. This type of environment provides more room for growth and creativity as the learning process is much more fluid.
Reputation
Over the last decade, the perception of gaining a barbering/cosmetology license through an apprenticeship program has changed a lot. In the past, it was the case that getting a job after your program was easier to do if you attended a professional school. Today, salons and barbershops are looking to hire those who have the skills necessary to be successful regardless of how they completed their training.
Why enroll at Cosmebar?
Now that you have learned a bit more in-depth about the differences between apprenticeship programs and traditional barbering and cosmetology schools, I want to tell you why Cosmebar operates under the apprenticeship model. The heart of our value proposition is that apprenticeship programs allow you to earn while you learn. In a world where you can become a professional barber/cosmetologist in 90 days or less, get paid for the work that you do during that time, AND build your clientele in the process, there is no better way to earn your license.
If you aren't already convinced, let's think about apprenticeship versus professional school in another way. The discussion of which learning format is best for you is a lot like the discussion of formal education versus real-world experiences. Apprenticeship programs are the sweet spot between learning the barbering and cosmetology industry through textbook training and working hands-on with clients.
When it comes to post-training opportunities, apprenticeship programs set graduates up much more effectively than professional training programs do because graduates leave with knowledge of the industry from all angles. Salons and barber shops want to feel confident in who they hire, and if they trained you themselves, they know you are going to be the right fit for the job.
Cosmebar students are treated as professionals as soon as possible, knowing how to build a clientele, and have the business-savvy to be successful in the barbering and cosmetology industry.
Key Resources: